By: Ericka N. Blas
The PH-OGP hosted this year's first roundtable discussion (RTD) with key government agencies as part of Secretary Amenah F. Pangandaman's efforts of mainstreaming the Partnership across government agencies. This was held on October 12, 2022 at The Bayleaf Intramuros and via online. The RTD was participated by officials and representatives from the Presidential Management Staff, Department of Finance, Department of Agriculture, Department of Justice, Department of Social Welfare and Development, Department of the Interior and Local Government, Union of Local Authorities of the Philippines, Procurement Service, Government Policy Procurement Board – Technical Support Office, National Economic and Development Authority, Office of Senator Grace Poe, and Philippine Health Insurance Corporation.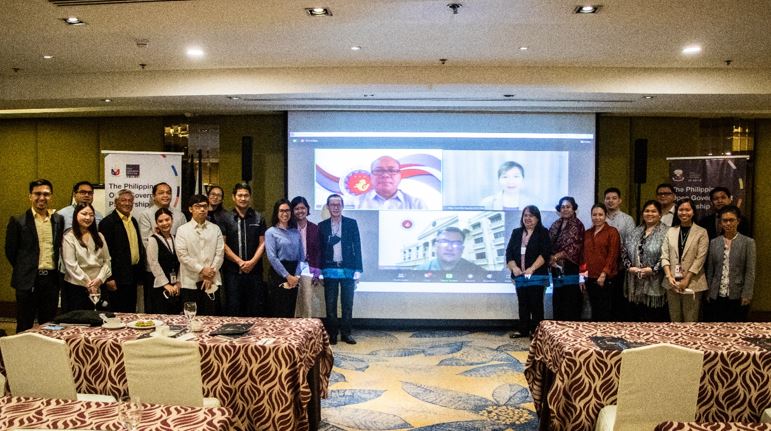 From left to right (front, left side): Atty. Manuel Rodriguez (DOF), Ms. Ericka Blas (DBM), Ms. Kathleen Faye Nagales (DBM), Asec. Randolph Pascasio (DOJ), Mr. Joseph Manicad (DA), Ms. April De Gusman (DA), Dir. Rosa Maria Clemente (PS-PhilGEPS), Mr. Richard Villacorte (DILG); From left to right (back, left side): Assistant Secretary Atty. Jericho Acedera (PMS), Dir. Wayne Belizar (DSWD), Atty. Dennis Santiago (DBM-PS), Ms. Czarina Medina-Guce; From left to right (front, right side): Asst. Dir. Judith Gondra (NEDA); Usec. Mercedita Sombilla (DA), Executive Dir. Aileen Leycano (ULAP), Atty. Rowena Candice Ruiz (GPPB), Ms. Camille Joy Dionido (DSWD), Ms. Clarissa T. Bautista (DBM); From left to right (back, right side): Mr. Blake Barrios (ULAP), Mr. Lloyd Sentina (PhilHealth), Mr. Angelo Tiemsim (DOF); On screen: Asec. Rolando Toledo (DBM), Atty. Camille Sevilla (Office of Senator Poe), Mr. Robin Gumasing (DBM)
In her video message, PH-OGP Chairperson and DBM Secretary Amenah F. Pangandaman shared, "There is a lot of potential in moving the PH-OGP values forward, in institutionalizing OGP in government, in engaging more partners from government who share the same commitment of increasing the availability of information about governmental activities, supporting civic participation, in implementing the highest standards of professional integrity throughout our administrations, and in increasing access to new technologies for openness and accountability,"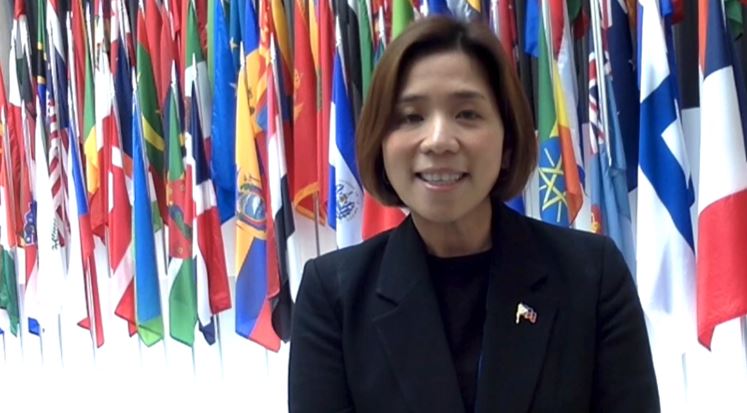 Secretary Amenah F. Pangandaman delivering her video message for the representatives of different government agencies participating in the PH-OGP Roundtable Discussion with Key Government Agencies from Washington D.C. where she is attending the 2022 Annual Meetings and Ancillary Meetings of the International Monetary Fund and World Bank
The roundtable discussion was facilitated by Ms. Czarina Medina-Guce where she led the conversation on participating agencies can leverage on the PH-OGP as a platform that can amplify their programs, activities, and projects through the OGP values.
PH-OGP Lead Secretariat, Assistant Secretary Rolando U. Toledo highlighted how the PH-OGP has improved the governance processes and cited the country's initiatives that place the Philippines as one of the open government champions, "Globally, we have paved the way and made spaces for the public to be heard and for the government to use these experiences and realities of the majority of the Filipinos to better inform the policies to address their concerns. We have sustained the collaboration and leveraged on our network to build more champions of open governance in both government and non-government sectors," Asec. Toledo shared. He also mentioned that as public servants, it is incumbent that the government lead the reforms in opening up public institutions towards better serving the Filipinos.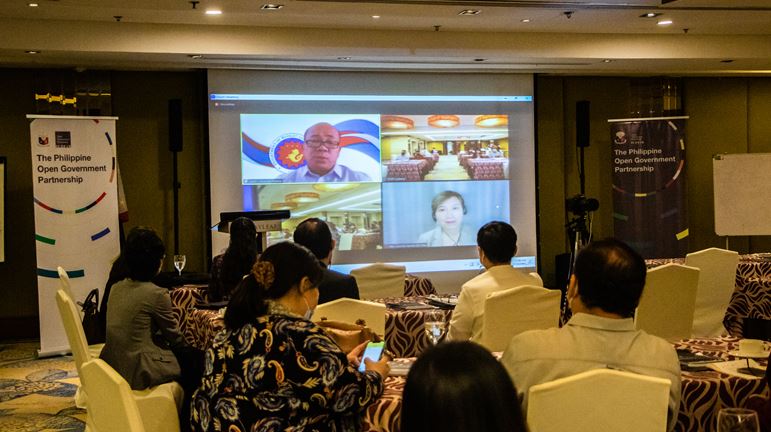 In its second decade and through the leadership of Secretary Pangandaman, the PH-OGP aims to build a stronger coalition and to include more government agencies to participate in the activities of the PH-OGP through and beyond the implementation of the country action plan.