By: Ericka N. Blas
The members of the Philippine Open Government Partnership (PH-OGP) Steering Committee welcomed its new chairperson, DBM Secretary Amenah F. Pangandaman, during the Committee's third quarter meeting last September 15, 2022. The hybrid meeting was conducted at the DBM Arcache Building and attended by new and incumbent officials and representatives from the government, incumbent non-government sectors, some of whom participated via Zoom.
PH-OGP Lead Secretariat, DBM Assistant Secretary Rolando U. Toledo, officially introduced Secretary Pangandaman to the body. He shared that Secretary Pangandaman is not new to the DBM having served as Undersecretary and functional group head of the office of former DBM Secretary and now Department of Finance Secretary Benjamin E. Diokno. Prior to her appointment as budget chief, Sec. Pangandaman is Assistant Governor and concurrent head of Strategic Communication Advocacy and Executive Offices Coordinator at Bangko Sentral ng Pilipinas.
The Budget Chief underscored her priorities to institutionalize anti-corruption systems that will make the bureaucracy more efficient and transparent through budget reforms, including the streamlining of the Procurement Service, and strengthening public financial management digitalization.
In her opening message, Secretary Pangandaman expressed her desire to work with the Steering Committee to deliver reforms and programs targeted to respond to the current realities of the society. "I would like to take this opportunity to affirm and reassure everyone that under my leadership, we will continue to co-create and usher innovations that will improve public service delivery, spearhead holistic programs aligned with the priorities of the Administration meant to address public concerns, and most importantly, foster a more energize civic space our citizens can freely and constructively influence and inform the policies directly affecting them", Pangandaman emphasized.
Secretary Pangandaman positively responded to the call of mainstreaming Philippine Open Government Partnership across local and national government agencies. Leading to the efforts of institutionalizing PH-OGP in the government through an issuance of an Executive Order. The highlights and key agreements of the meeting can be accessed here.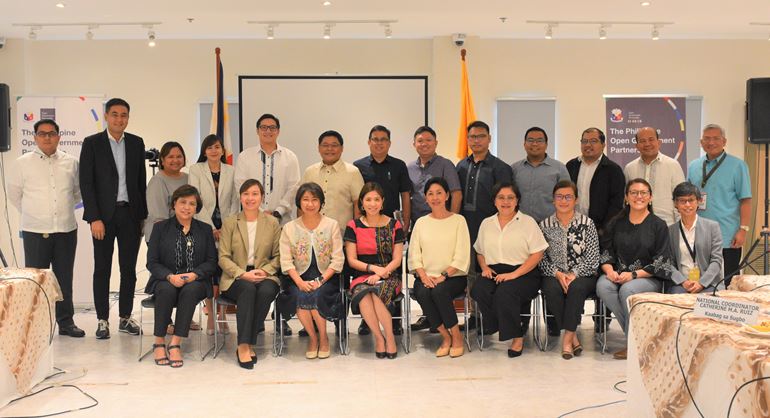 From left to right standing: PMS Assistant Secretary Jericho Acedera, ULAP National President and Quirino Governor Dakila Cua, NEDA Division Chief Ms. Marianne Reyes, NEDA Director Atty. Reverie Pure Sapaen, PMS Undersecretary Rodolfo Robert John Pallatao IV, DSWD Assistant Secretary Adonis Sulit, DILG Assistant Secretary Francisco Cruz, PH-OGP LSIG Alternate Representative Mr. Ian Jason Hecita, LSIG Prof. Ador Torneo, LSIG Program Manager Randy Cacho, PH-OGP Non-government Secretariat (CODE-NGO) Member Mr. Aldwin Empaces, DBM Asisstant Secretary Rolando Toledo, DSWD Director Wayne Belizar
From left to right sitting: DILG Assistant Secretary Ester Aldana, Deputy Chief-of-Staff of Senator Grace Poe Atty. Camille Sevilla, NEDA Undersecretary Rosemarie Edillon, DBM Secretary Amenah Pangandaman, Coalition for Bicol Development Chairperson Aurora Chavez, Kaabag sa Sugbo Foundation Inc. National Coordinator Cathy Ruiz, CODE-NGO Executive Director Deanie Lyn Ocampo, Acting Lead of OGP Support Unit in the Asia and Pacific Ms. Ivy Ong, PH-OGP Point-of-Contact Ms. Clarissa Bautista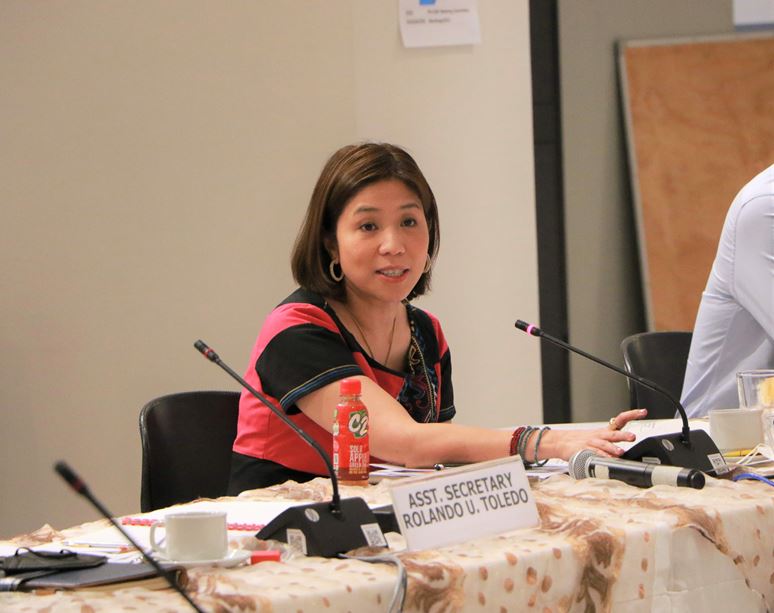 Secretary Pangandaman presiding the 3rd Quarter Steering Committee Meeting.