OGP Point of Contact for the Philippines, Ms. Clarissa T. Bautista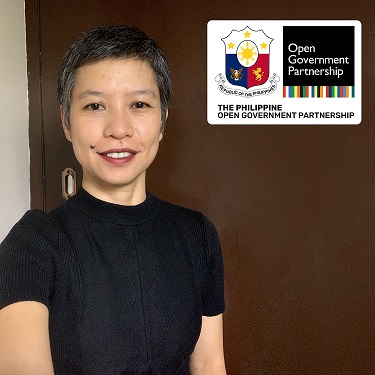 Since 2011, the Philippines has taken an active role in advancing open government. As a founding member of the Open Government Partnership (OGP), we have since endorsed a high-level Open Government Declaration[1], delivered four (4) National Action Plans (NAPs) with the fifth Action Plan ending implementation in August and committed to the Independent Reporting Mechanism (IRM).
As we move towards the co-creation of the 6th NAP, PH-OGP remains committed in promoting transparency, empowering citizens, fighting corruption and harnessing new technologies to strengthen governance. We have established meaningful partnership with the non-government sector through the PH-OGP activities. This partnership has grown over the years as we provide platform and avenue for dialogue, constructive engagements, information dissemination and partnership-building with the CSOs and the general public. The projects under the five action plans we have implemented helped establish a strong partnership between government and the non-government sector.
Even with the perceived threat of a shrinking civic space in recent years, the government has continued to promote open government. PH-OGP has played an active role in bridging the government to the people. Together with its partner organizations, PH-OGP continues to pursue activities that provide a shared platform for government and non-government stakeholders to promote transparency and inclusivity. This has translated to the various international awards and commendations received by the programs and projects enrolled in the Action Plan.
The Citizen Participatory Audit (CPA) of the Commission on Audit that received Special Citation from the Jury Award from the Global Initiative for Fiscal Transparency (GIFT) in 2017 and won first place in the OGP Impact Awards during the OGP Global Summit in December 2021, the Philippine Extractive Industries Transparency Initiative (PH-EITI) made it possible for the Philippines to be the first country to be assessed as compliant to international extractives industries standards, the fiscal transparency reforms of the country were highlighted in the Regional Technical Workshop on Strengthening Open Budget Practices in Asia Pacific Region in 2018, and the International Budget Partnership (IBP) recognized the Philippines as one of the four countries with adequate level of accountability in early COVID-19 fiscal policy response in 2021 are some of the awards and recognition that we have received over the years. These were made possible through the partnership we have established with our non-government stakeholders.
In the next cycle of the Action Plan, we continue to encourage and involve the public in influencing the government in making more informed decisions and targeted solutions based on the realities on the ground. Quoting the PH-OGP Lead Secretariat Usec. Rolando U. Toledo "As we always say, "the OGP is only as strong as we make it to be"". The years of partnership make us grateful as we work with empowered people in helping us towards making our government work better for its people.
[1] https://www.opengovpartnership.org/process/joining-ogp/open-government-declaration/