Details
As one of OGP's founding countries, the Philippines has remained steadfast to its commitment in energizing civic spaces and public participation, enhancing inclusive digital revolution, amplifying discourses on anti-corruption, and strengthening transparency and accountability reforms. This is evidenced by the Philippines' action plans built from the country's eagerness to improve public services and upholding public integrity anchored on a paradigm which seeks to widen the spaces for citizens in their very own government, hold public leaders to account and ensure that the benefits of governance reach the grassroots in an immediate manner.
The PH-OGP is identified as the main consultation platform of the Participatory Governance Cluster (PGC) of the Cabinet, created via Executive Order No. 24, series of 2016, whose primary mandate is centered on bridging the Philippine government to the citizenry through active public engagement. This positioned PH-OGP to contribute in the country's institutional agenda[1] through its linkage to various governance frameworks such as the Sustainable Development Goals and the Philippine Development Plan.
The PH-OGP process is characterized by participatory consultations, strong multi-sectoral partnerships, and open and constructive exchanges which has led to credibly implementing commitments which have positively affected bureaucratic efficiency, economic resiliency, and greater citizen participation in the country.
During its tenure in the OGP, the Philippines has successfully co-created and implemented five (5) national action plans with 65 commitments which responds to a broad range of national issues where, according to the IRM, more than half of its commitments have been ambitious and one-third of which documented early results in opening government, particularly regarding fiscal openness and the right to information[2]. These commitments and efforts coupled with the strong dedication and support of the PH-OGP Steering Committee[3] and champions and reformers in various national and local governance landscapes—from high-level political leaders, career officials, civil servants, and civil society actors– pivoted our country to be recognized as a global leader in the open government community.
A Decade of Openness and Transformative Results: The Philippines Success Story in Open Government Partnership
Even prior to the joining the OGP, the Philippines has already facilitated higher levels of state-civil society engagement. This is evident through the Department of Education's reform project called Textbook Count in 2002 where civil society monitors the entire procurement cycle of textbooks including observing in the pre-bidding, bidding, and post-qualification process; inspecting warehouses and printing presses; and monitoring delivery of textbooks in schools to detect and prevent corruption. This resulted to a more efficient procurement process and cutting the price of textbooks by 40%, resulting in savings of approximately to Php 72.8 million[4].
Bureaucratic support and civil society influence are imperative to the success of reforms which is why this pre-existing civil society-state relationship in the Philippines helped enable the implementation of OGP's commitments. The OGP presented an additional opportunity for formalizing anterior proactive efforts in opening government and mobilizing coalitions to bring to the government issues that matters on the ground. This has resulted to various reforms which have produced impactful and irreversible reforms.
In 2015, the Philippines committed in its 4th NAP a reform to reduce bureaucratic red tape in the cost of doing business. This reform program significantly improved the country's ranking in the World Bank's Doing Business Report, from 138 out of 189 countries in 2013 to 108 in 2014 and 95 in 2015. This improved the country's business climate and increased investment by 10% over the same period.[5]
The Citizen Participatory Audit (CPA) of the Commission on Audit became a globally recognized program being hailed as an OGP Bright Spot Awardee in 2013 and first place winner in the Asia and the Pacific in the OGP Impact Awards in 2015 for its ambitious initiative of opening up the state's auditing process to the citizens to ensure greater efficiency and effectiveness in the use of public resources.
Through the Philippines strong commitment in the implementation of the Extractives Industries Transparency Initiative (EITI)[6], the country was recognized to be the first among over 50 countries to have achieved a satisfactory progress in the implementation of the 2016 EITI Standard.
To respond to the challenge of transparency, service delivery, and local government capacity, the Department of the Interior and Local Government committed the Seal of Good Local Governance (SGLG) in 2014 to serve as a guide to local governments on how to better deliver government services. This supported continuous capacity-building to support LGUs.
In 2016, the country's commitment to right to information was even more solidified through the issuance of Executive Order No. 2 which operationalizes people's right to information and mandating the executive branch to full disclosure and transparency in the public service, thereby creating the Freedom of Information Program being managed by a project management office (PMO) in charge in undertaking efforts and initiatives towards the legislation of the FOI Bill.
The International Budget Partnership (IBP) also recognized the Philippines in 2021 to be the one of the four countries and the only Asian country to have achieved adequate level of accountability in its early COVID-19 fiscal policies driven by the Department of Budget and Management's commitment to fiscal openness enshrined in its Fiscal Openness Program. This is conducted along with the Open Budget Survey 2021[7] where the country's score remained above the global average which positioned the Philippines within the top 30 over 120 participating countries and a leader in the ASEAN Region in terms of budget transparency or Open Budget Index, public participation, and budget oversight.
Testament to the country's high-level commitment in the Partnership, the Philippines was qualified to receive support in its open government initiatives and passed the stringent process of the OGP Multi-Donor Trust Fund (MDTF) in 2019. The MDTF was established with support from development partners and the World Bank to provide OGP eligible countries and locals an additional mechanism to access enhanced support with the aim of seeing if such support could help strengthen OGP processes or lead to more credible delivery of reform[8].
[1] PGC Resolution No. 1, series of 2022, Acknowledging the Contributions of PH-OGP in the Realization of the Goals of the PGC to Enhance Citizen Participation in Government Processes as Outlined in Executive Order No. 24, s. 2017
[2] Independent Reporting Mechanism, The Philippines Co-Creation Brief 2022, p. 2
[3] Please see Annex A for the detailed composition of the PH-OGP Steering Committee
[4] Government Watch Philippines, Textbook Count, 2015
[5] Open Government Partnership, What is Working?: Key OGP Reforms, Strategic Refresh of the Philippine Open Government Partnership, December 2016, p. 8
[6] The Extractives Industries Transparency Initiative is a global standard that promotes open, accountable management, and good governance of oils, gas, and minerals resources. The implementation of the EITI in the Philippines was created through Executive Order No. 147, s. 2013.
[7] The Philippines scored 68/100 (vs the global average of 45) in budget transparency, 35/100 (vs the global average of 14) in public participation, and 78/100 (vs the global average of 52) in budget oversight. Full report can be accessed in the International Budget Partnership website or through this link.
[8] Open Government Partnership, Launch of the OGP Multi-Donor Trust Fund Support to OGP Participants, January 2019
Details

The 2021 OGP Global Summit will mark OGP's 10th anniversary and will provide a meaningful platform
to build a stronger global movement for open government and democracy,
galvanize the open government community with fresh energy,
and reaffirm OGP members' commitments to open government.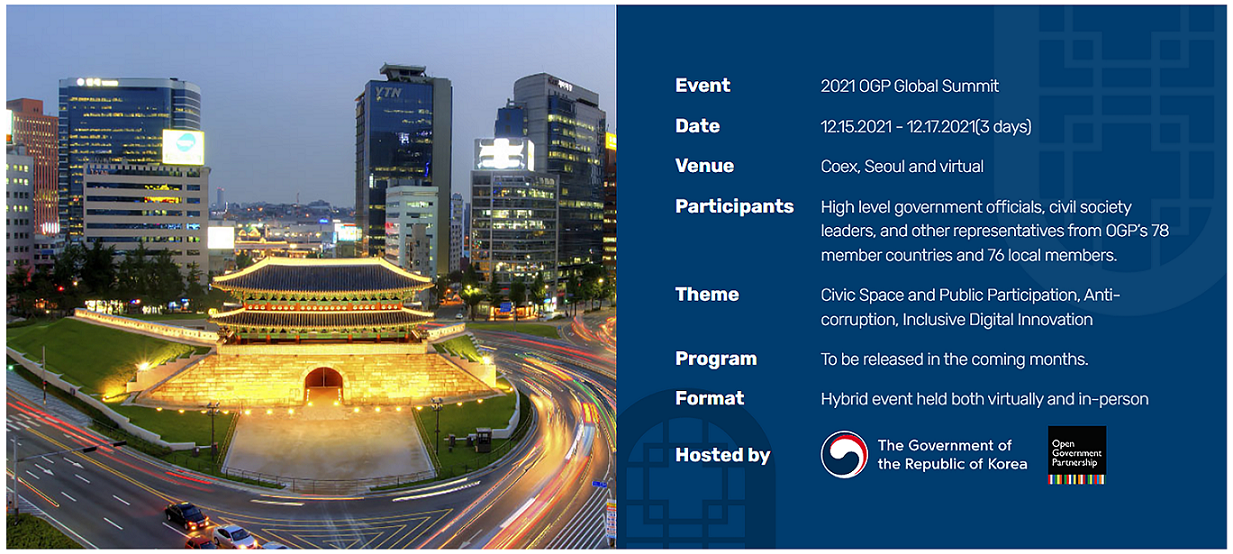 Details
National Government Agencies (NGAs)
No.

Departments / Agencies

Information

Website

Facebook Page

1.

Bureau of Customs (BOC)

DOF Issuances on COVID-19, Reports on PPE

@BureauOfCustomsPH

2.

Department of Budget and Management (DBM)

Budget and Management Issuances on COVID-19

https://www.dbm.gov.ph/index.php/secretary-s-corner/press-releases/list-of-press-releases/

@DBMgovph

3.

Department of Education (DEPED)

DEPED Memoranda on COVID-19 related issuances affecting Education Sector

https://www.deped.gov.ph/category/issuances/deped-memoranda/

@DepartmentOfEducationPH

4.

Department of Foreign Affairs (DFA)

Public and Travel Advisories on COVID-19

@dfaphl

5.

Department of Health (DOH)

Case Tracker, Issuances, Press Releases

@OfficialDOHgov

6.

Department of Labor and Employment (DOLE)

COVID-10 Mitigating Measures, Labor and Employment Issuances due to COVID-19, Press Releases, Updates on CAMP and TUPAD

@laborandemployment

7.

Department of Social Welfare and Development (DSWD)

COVID-19 DSWD DROMIC Report, News and Updates, Issuances, Social Amelioration Program

@dswdserves

8.

Department of the Interior and Local Government (DILG)

Interior and Local Government Issuances and Directives on COVID-19

@dilg.philippines

9.

Department of Trade and Industry (DTI)

Issuances, Trade and Industry COVID-19 Resources

@DTI.Philippines

10.

Department of Transportation (DOTr)

Transportation Issuances, News, Updates, Memoranda on COVID-19

@DOTrPH

11.

Office of Civil Defense – National Disaster Risk Reduction Management Council (OCD-NDRRMC)

Status of Donations for COVID-19 Response

@civildefensePH

12.

Office of the Presidential Spokesperson (OPS)

Press Conferences

n/a

@PresSpokespersonPH

13.

Overseas Workers Welfare Administration (OWWA)

Repatriated OFW updates due to COVID-19, Advisories, News

@OWWAofficial

14.

People's Television Network (PTV)

Special Coverage, Live Updates

@PTVph

15.

Philippine News Agency (PNA)

News and Information

@pnagovph

16.

Presidential Communications Operations Office (PCOO)

a. Freedom of Information (FOI) Philippines

b. Laging Handa PH

COVID Case Bulletin, Updates, Press Releases, Transparency Initiatives

@pcoogov, @foiph, @LagingHandaPHL

17.

Procurement Service – Philippine Government Electronic Procurement System (PS-PHILGEPS)

COVID-19 Response Items Dashboard and related Issuances

https://ps-philgeps.gov.ph/home/index.php/agency-relations/covid-19-response-items-dashboard

@ProcurementServiceOfficial

18.

Radio Television Malacañang – RTVM (RTVM)

Press Conferences

n/a

@rtvmalacanang
For comments/suggestions and inclusions of transparency websites: Kindly email us at This email address is being protected from spambots. You need JavaScript enabled to view it.
Details

The Philippine Open Government Partnership (PH-OGP) remains firmly committed to the OGP principles of civic participation, promoting transparency, fighting corruption, empowering citizen and leveraging on technology to strengthen governance. Through PH-OGP, we have endeavored to make the citizens know and feel that the government is there for them. We continue to embrace the values of transparency and open government in the programs and projects in our Action Plan and to make government information more accessible and available through the use technology to ensure accountability.
Our most recent Action Plan has institutionalized the conduct of Regional Townhall Sessions dubbed as Dagyaw, which ensures more meaningful civic participation. We have reached more sectors through these consultations where government and non-government partners identify collectively local issues and present them in the sessions. This avenue for citizen participation has provided a safe space for government and the public to communicate their concerns and discuss ways forward on topics that have direct impact to the citizens.
The Philippines will continue to advance open government through the PH-OGP commitments on civic space and digital governance. We will establish mechanisms for a more robust civic participation in governmental processes including budget preparation and implementation. Fiscal openness will continue to be included in our commitments as we provide the platform to inform citizens of the state of national and local governance, maximize citizen engagement and establish citizen feedback mechanisms to help fight corruption. PH-OGP will sustain its active engagement in OGP adhering to its values and making a mark in the OGP circles in the region.
Details
The Open Government Partnership (OGP) is an international movement for openness established in 2011. The Philippines is one of the eight founding governments of the OGP together with Brazil, Indonesia, Mexico, Norway, South Africa, the United Kingdom and the United States.
In a nutshell, OGP is a global effort to make governments better. It aims to secure concrete commitments from governments to promote transparency, empower citizens, fight corruption, and harness new technologies to strengthen governance.
Currently, OGP has grown to 77 countries, 106 local governments, thousands of civil society organizations, and several multilateral partners. To become a member of OGP, participating countries must endorse a high-level Open Government Declaration[1], deliver a country action plan developed with public consultation, and commit to independent reporting on their progress going forward. As one of the 8 founding members, the Philippines has remained firmly committed to OGP through various commitments and it is through these commitments to the Open Government principles that we have been able to lay strong foundations for our reforms.
The Philippines has remained a global open government champion and has successfully weaved the OGP narrative and framework with various national governance anchors and mechanisms of the administration.
Under its pillar of Building a High-Trust Society (Malasakit), the country's continued engagement with the OGP is identified in the Updated Philippine Development Plan (PDP) 2017-2022's chapter on Ensuring Responsive, People-Centered, Technology-enabled and Clean Governance as a key strategy to ensure that government policies, programs, and projects are responsive to the needs of the people- which can ultimately lead to restoring the people's trust in the government.
The commitment to citizen engagement is further demonstrated by the following Executive Orders issued by the Duterte Administration during his term:
Executive Order No. 2, issued on July 24, 2016 that mandates the executive branch of the government to operationalize the people's constitutional right to information and the policy of full disclosure in public service;
Executive Order No. 6, issued on October 14, 2016, that established the 8888 Citizens' Complaint Center to facilitate timely and concrete action in citizens feedback on the way government services and goods are being delivered;
Executive Order No. 9, issued on December 1, 2016, that created the Office of Participatory Governance Cluster within the Cabinet that is mandated to exert all efforts to enhance citizen engagement in governmental processes;
Executive Order No. 24, issued on May 16, 2017, that creates the Participatory Governance Cluster which shall exert all efforts to enhance citizen participation in governmental processes.
The PH-OGP Steering Committee
The direction, programs and activities of the PH-OGP shall be set by the PH-OGP Steering Committee which shall be comprised of an equal number of representatives from government and non-government organizations (NGOs) such as civil society networks, government unions academe, and business groups, among others. It shall be supported by a PH-OGP Secretariat that shall be organized and supported by government and non-government.
Specifically, the Steering Committee shall have the following functions:
Set policies and trajectory of the Philippine Open Government Partnership:

Help craft and finalize the PH-OGP Plan;
Monitor and evaluate the implementation of the Plan;
Publish an annual monitoring and evaluation report on the accomplishments of the PH-OGP to be represented in a public forum;
Provide policy recommendation to the PH-OGP Plan;

Promote OGP through advocacy and outreach activities;

Provide oversight to the secretariat in organizing the PH-OGP and its various activities;
Designate an accountable focal person for the oversight of the PH-OGP Secretariat;
Provide inputs to matters and concerns related to the OGP at the national and international levels;
Through its members, conduct outreach and provide consultation platform to various sectors in support of the action plan initiatives and addressing issues / concerns by OGP stakeholders; and
Develop and implement a resource mobilization strategy to support advocacy and outreach activities for various sectors.
The PH-OGP Steering Committee 2019-2022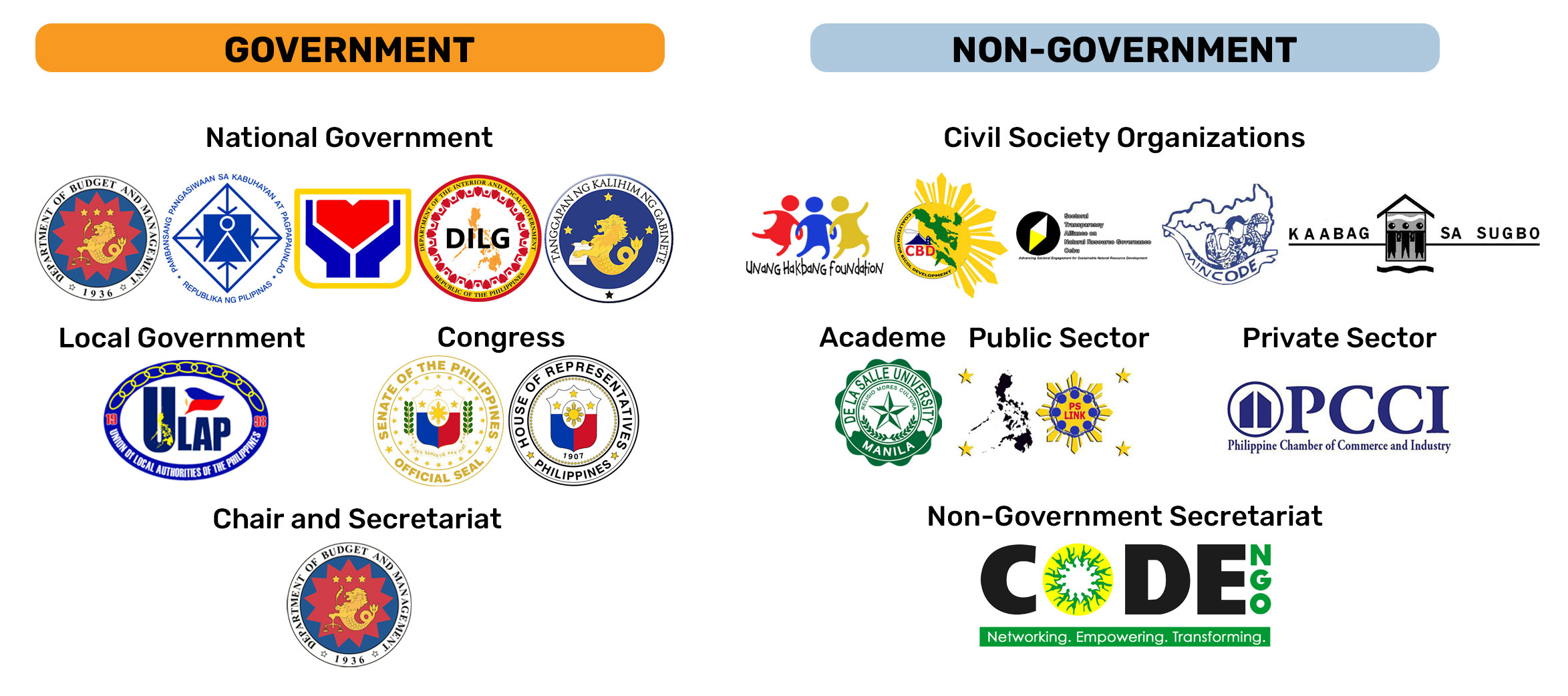 The Terms of Reference (TOR) of the PH-OGP Steering Committee can be accessed here.
[1] https://www.opengovpartnership.org/process/joining-ogp/open-government-declaration/