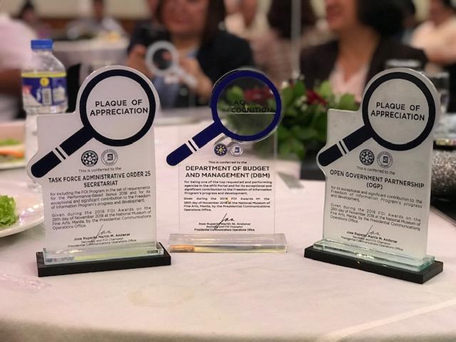 The Department of Budget and Management (DBM) received three recognitions during the annual Freedom of Information (FOI) Awards at the National Museum of Fine Arts in Ermita, Manila on November 28, 2018.
"We are very proud, because across the whole government, the DBM was the only agency that was conferred three awards during the ceremony. True to our mission towards becoming a world-class budget and management institution, these recognitions affirm DBM's position as a public sector reform leader, model agency and champion of transparency, accountability and participation in the public sector," said Undersecretary Lilia C. Guillermo, Chief Information Officer of the DBM.
Usec. Guillermo and Assistant Secretary Myrna S. Chua received the awards on behalf of the DBM during the awarding ceremony.
The DBM was conferred a Plaque of Recognition as one of the top requested and performing agencies in the eFOI Portal and for its efforts in providing the public with convenience in requesting data from the government.
In addition, the PH-OGP, where the DBM serves as the Secretariat and the DBM Secretary as the Chairperson of the PH-OGP Steering Committee, received a Plaque of Appreciation for its efforts and accomplishments that support the implementation of the FOI Program in the Executive Branch.
The PH-OGP is a multilateral initiative that brings together government reformers and civil society leaders to create action plans that make governments more inclusive, responsive and accountable. It included the passage of the FOI Law as one of its commitments in its 2017-2019 National Action Plan.
Through the OGP platform, the FOI has been introduced in multi-stakeholder consultations, peer learning sessions, assessment workshops, international conferences, and other partnership and linkage-building activities that further promoted and enhanced the FOI program implementation.
Similarly, the AO 25 Task Force (Inter-Inter-Agency Task Force on the Harmonization of National Government Performance Monitoring, Information and Reporting Systems), which is chaired by the DBM, was also given a Plaque of Appreciation.
It has begun including the posting and submission of the FOI Manual as one of the requirements in the grant of FY 2017 Performance-Based Bonus (PBB). As a result, the compliance rate to FOI went up to 95 percent.
Now on its second year as a PBB requirement, the Task Force started to require the entire FOI Program in the FY 2018 PBB implementation. The mandated reports to be submitted are based on the enhanced requirements of the Presidential Communications Operations Office (PCOO).
DBM Secretary Benjamin E. Diokno, who delivered the keynote address during the event, emphasized that "democracy rests not only on a government that is transparent, responsive, and effective but also on a citizenry that is well-informed."
With the theme, "Empowering Citizens through an Effective Freedom of Information Program," this year's event celebrated the efforts of government offices, organizations, public servants and leaders in championing open governance and walking the extra mile in advocating for the people's right to freedom of information.

(30)