Details

The 2021 OGP Global Summit will mark OGP's 10th anniversary and will provide a meaningful platform
to build a stronger global movement for open government and democracy,
galvanize the open government community with fresh energy,
and reaffirm OGP members' commitments to open government.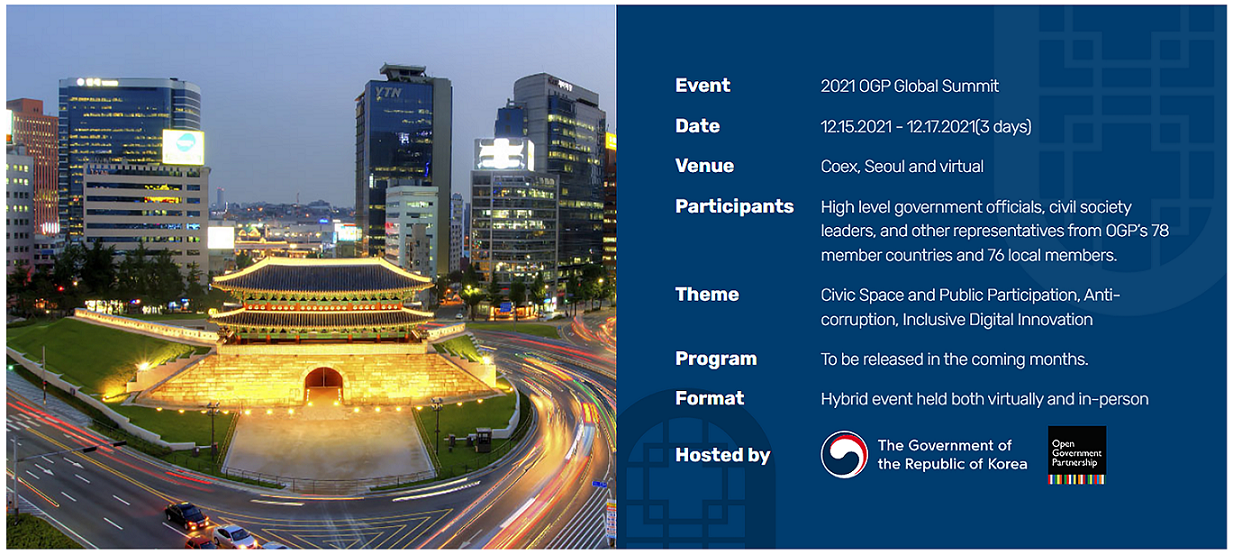 Details

The Philippine Open Government Partnership (PH-OGP) remains firmly committed to the OGP principles of civic participation, promoting transparency, fighting corruption, empowering citizen and leveraging on technology to strengthen governance. Through PH-OGP, we have endeavored to make the citizens know and feel that the government is there for them. We continue to embrace the values of transparency and open government in the programs and projects in our Action Plan and to make government information more accessible and available through the use technology to ensure accountability.
Our most recent Action Plan has institutionalized the conduct of Regional Townhall Sessions dubbed as Dagyaw, which ensures more meaningful civic participation. We have reached more sectors through these consultations where government and non-government partners identify collectively local issues and present them in the sessions. This avenue for citizen participation has provided a safe space for government and the public to communicate their concerns and discuss ways forward on topics that have direct impact to the citizens.
The Philippines will continue to advance open government through the PH-OGP commitments on civic space and digital governance. We will establish mechanisms for a more robust civic participation in governmental processes including budget preparation and implementation. Fiscal openness will continue to be included in our commitments as we provide the platform to inform citizens of the state of national and local governance, maximize citizen engagement and establish citizen feedback mechanisms to help fight corruption. PH-OGP will sustain its active engagement in OGP adhering to its values and making a mark in the OGP circles in the region.
Details
In 2011, an international movement for openness was also established, called the Open Government Partnership (OGP). The Philippines, is in fact, one of the eight founding governments of the Open Government Partnership or OGP in 2011, together with Brazil, Indonesia, Mexico, Norway, South Africa, the United Kingdom and the United States.
In a nutshell, OGP is a global effort to make governments better. It aims to secure concrete commitments from governments to promote transparency, empower citizens, fight corruption, and harness new technologies to strengthen governance.
Currently, OGP has grown to 75 countries representing a third to the world's population. To become a member of OGP, participating countries must endorse a high-level Open Government Declaration, deliver a country action plan developed with public consultation, and commit to independent reporting on their progress going forward. As one of the 8 founding members, and under the Duterte administration, the Philippines has remained firmly committed to OGP through various commitments and it is through these commitments to the Open Government principles that we have been able to lay strong foundations for our reforms.
Under the leadership of Budget Secretary Benjamin E. Diokno, the Philippines has remained a global open government champion and has successfully weaved the OGP narrative and framework with various national governance anchors and mechanisms of the administration.
Under its pillar of Malasakit, the country's continued engagement with the Open Government Partnership (OGP) is identified in the Philippine Development Plan (PDP) 2017-2022's chapter on Ensuring People-Centered, Clean and Efficient Governance as a key strategy to ensure that government policies, programs, and projects are responsive to the needs of the people- which can ultimately lead to restoring the people's trust in the government.
This Administration's commitment to citizen engagement is further demonstrated by the following Executive Orders issued by President Duterte early into his term:
Executive Order No. 2, issued on July 24, 2016 that mandates the executive branch of the government to operationalize the people's constitutional right to information and the policy of full disclosure in public service;
Executive Order No. 6, issued on October 14, 2016, that established the 8888 Citizens' Complaint Center to facilitate timely and concrete action in citizens feedback on the way government services and goods are being delivered;
Executive Order No. 9, issued on December 1, 2016, that created the Office of Participatory Governance Cluster within the Cabinet that is mandated to exert all efforts to enhance citizen engagement in governmental processes.
Details
National Government Agencies (NGAs)
No.

Departments / Agencies

Information

Website

Facebook Page

1.

Bureau of Customs (BOC)

DOF Issuances on COVID-19, Reports on PPE

@BureauOfCustomsPH

2.

Department of Budget and Management (DBM)

Budget and Management Issuances on COVID-19

https://www.dbm.gov.ph/index.php/secretary-s-corner/press-releases/list-of-press-releases/

@DBMgovph

3.

Department of Education (DEPED)

DEPED Memoranda on COVID-19 related issuances affecting Education Sector

https://www.deped.gov.ph/category/issuances/deped-memoranda/

@DepartmentOfEducationPH

4.

Department of Foreign Affairs (DFA)

Public and Travel Advisories on COVID-19

@dfaphl

5.

Department of Health (DOH)

Case Tracker, Issuances, Press Releases

@OfficialDOHgov

6.

Department of Labor and Employment (DOLE)

COVID-10 Mitigating Measures, Labor and Employment Issuances due to COVID-19, Press Releases, Updates on CAMP and TUPAD

@laborandemployment

7.

Department of Social Welfare and Development (DSWD)

COVID-19 DSWD DROMIC Report, News and Updates, Issuances, Social Amelioration Program

@dswdserves

8.

Department of the Interior and Local Government (DILG)

Interior and Local Government Issuances and Directives on COVID-19

@dilg.philippines

9.

Department of Trade and Industry (DTI)

Issuances, Trade and Industry COVID-19 Resources

@DTI.Philippines

10.

Department of Transportation (DOTr)

Transportation Issuances, News, Updates, Memoranda on COVID-19

@DOTrPH

11.

Office of Civil Defense – National Disaster Risk Reduction Management Council (OCD-NDRRMC)

Status of Donations for COVID-19 Response

@civildefensePH

12.

Office of the Presidential Spokesperson (OPS)

Press Conferences

n/a

@PresSpokespersonPH

13.

Overseas Workers Welfare Administration (OWWA)

Repatriated OFW updates due to COVID-19, Advisories, News

@OWWAofficial

14.

People's Television Network (PTV)

Special Coverage, Live Updates

@PTVph

15.

Philippine News Agency (PNA)

News and Information

@pnagovph

16.

Presidential Communications Operations Office (PCOO)

a. Freedom of Information (FOI) Philippines

b. Laging Handa PH

COVID Case Bulletin, Updates, Press Releases, Transparency Initiatives

@pcoogov, @foiph, @LagingHandaPHL

17.

Procurement Service – Philippine Government Electronic Procurement System (PS-PHILGEPS)

COVID-19 Response Items Dashboard and related Issuances

http://ps-philgeps.gov.ph/home/index.php/agency-relations/covid-19-response-items-dashboard

@ProcurementServiceOfficial

18.

Radio Television Malacañang – RTVM (RTVM)

Press Conferences

n/a

@rtvmalacanang
For comments/suggestions and inclusions of transparency websites: Kindly email us at This email address is being protected from spambots. You need JavaScript enabled to view it.